COMING EVENTS & RECENT NEWS 
MAY 2023
In May, we took a vacation and drove to the Carolinas. We traveled through seven states, if you count Arkansas where we started. We had a great time, marked a few things off the old bucket-list, and even managed to relax, read a few books, and write a bit. If we could swing a vacation like that every three or four months, I think I'd be okay.
_______________________________
June 2023
June 3
We attended Arkansas Writers Conference in North Little Rock and heard great, motivating speakers. We also came home with some awards. Gary won 6 and I won 7.
_______________________________
SEPTEMBER 2023

September 2
The White County Creative Writers Conference in Searcy is an annual must for us. It is consistently a great conference, with interesting and informative speakers. The conference includes 27 writing contests this year in a wide variety of genres. There were 365 entries last year, a conference record. I hope we can surpass that this year. Good luck to all the writers who enter.
________________________________
OCTOBER 2023
October 12-14
We plan to attend Ozark Creative Writers Conference . The three day event is held in beautiful Eureka Springs, Arkansas, and includes 31 writing contests,  multiple sessions, an open mic event, two banquet meals, live entertainment, plus an awards ceremony where contest winners are announced. You can view their website here. Gary and I love this special conference and the opportunities to visit with old friends and met some new ones. We compete to see which of us does better in the awards, but also cheer loudly for all our friends and fellow writers. (He beat me last year. Wish me better luck this time.)

NOVEMBER 2023
November is NaNoWriMo, or National Novel Writing Month. World-wide, thousands of people are committing to write an average of 1600 new words per month, with the goal of finishing a complete first draft of a novel in the month. It's just the kick in the seat that some writers need to get moving on a project.
_______________________________
OLDER NEWS______________________________________________
AUGUST 2022: New Book Release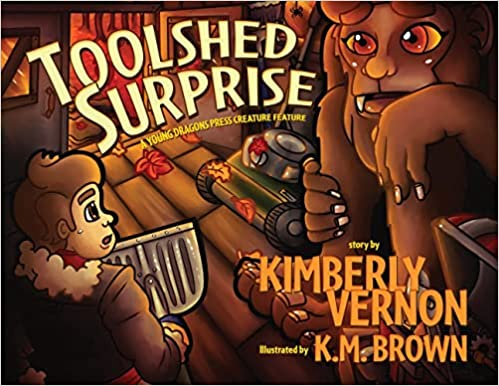 Thanks to Oghma Creative Media's Young Dragons Press, my children's picture book released August 30. It is available on Amazon.
You can read more about it the Young Dragon's website.
I wrote the story about three years ago for a contest that called for Bigfoot stories. In 2020, Young Dragons Press sponsored a contest for a children's story, so I made a few revisions and entered the story there. The story won first place, and they expressed interest in publishing it. I signed a contract with Young Dragons Press in September 2020, right before the publishing industry, along with most everything else, shut down due to the pandemic. Read my blogpost about the long road.
Toolshed Surprise is a fun little story, with a subtle, kind message. The illustrations are bold and colorful, and overall, I think it is a beautiful book. I hope you'll check it out.