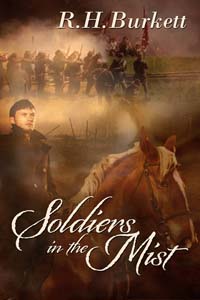 As promised, Gary and I purchased a couple of books this month from folks we've met at recent writing conferences. Today I am reviewing Soldiers in the Mist, by R. H. Burkett, here and on Goodreads. Amazon says I've been naughty and won't allow me to review anything on there at the moment. If I get that resolved, I'll post it there too.
Soldiers in the Mist
By R.H. Burkett
Published by The Wild Rose Press, 2016
I purchased this book directly from the author, whom I met a few years ago at a writers' conference. Upon diving in, the author's style and voice struck me as unique, and captivated me.
I can only describe this as a story within a story.
First, this is a story of three idealistic young men caught up in the Civil War, who learn the painful truth: war is not a noble calling, but rather a nasty, brutal affair with no clear boundaries of right and wrong. The author gives us a glimpse into the motives and reasoning that drove each young man to make, and ultimately choose to either break or honor, a promise that reaches into eternity.
But this is also the story of a receptive spirit, a writer with the gift of hearing messages from another dimension.
The two stories intertwine beautifully to make a rich experience for the reader. I will be looking for more from this author.
Get your copy here.