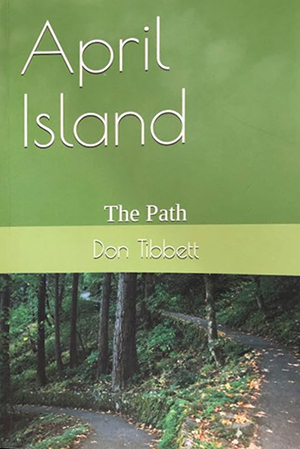 April Island: The Path / By Don Tibbett
I met the author at an arts and crafts fair in Heber Springs, Arkansas. I enjoyed visiting with him, and hearing about his book. His about-the-author blurb on the back cover reads, "Don Tibbett is semi-retired in Arkansas, but has a travel addiction requiring frequent treatment. This is his first work of fiction." That made me smile, so of course, I bought the book.
The book is the fictional story of Jackie Bell, who lost his wife to cancer, and has subsequently decided to hide from the world. When he gets the opportunity to buy an isolated island in the middle of a large Arkansas lake, he believes he has found the perfect escape.
As Jackie hires planners and workers to build his dream home on the island, he makes connections and builds relationships that quickly turn into surrogate family. The farther along the project gets, the larger and more complex it becomes.
Jackie soon discovers that in creating his self-sufficient island home, he is actually building a network of treasured friends and surrounding himself with loved ones whose talents and beliefs complement his own. The cast of supporting characters is diverse and interesting, with just enough detail to flesh them out with stories of their own and make them seem real.
As the island home grows to a compound, Jackie finds himself intrigued with a young architect. They are both wary of romantic involvement, but Jackie slowly discovers that he can indeed love again.
As the group becomes family and develops into a community, the benefits to them all grow to be far more than any of them expected or could have imagined.
The author appears to have done a great deal of research on building in general and especially a self-sustaining complex. It comes across as knowledgeable and authentic. It reads so realistically that I kept trying to find a real island that it could be based on.
The book is self-published and would benefit from a professional editor or at least a run through an editing software. But I enjoyed the story and would recommend it.
Check it out here.