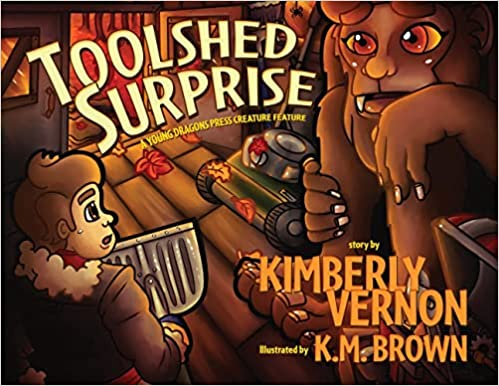 Yesterday, I received a box containing my children's book, Toolshed Surprise. Although I had self-published a poetry collection a few years ago, this box of books felt remarkably different.
This book is the product of a two-year long wait, because of illustrator changes, pandemic shutdowns, paper shortages, and other random things that most of us wouldn't think could affect publishing time frames.
For those who may not know the history, I wrote a children's story in 2019 for a contest that called for stories about Bigfoot. It was a fun story. It received an Honorable Mention, and I filed it away. Then, in 2020, a different contest called for a children's story on any subject.
On a whim, I polished the Bigfoot story and submitted it. That second contest was sponsored by Young Dragon's Press. My story won, and the judge, Clarissa Willis, who was then the acquisitions editor at Young Dragons, contacted me. They had an illustrator who drew outstanding, realistic pictures of Bigfoot, and were interested in publishing the story.
We signed a contract, made some revisions, and waited. In the meantime, the illustrator moved along, leaving them searching for someone who could draw Bigfoot. A new illustrator signed on, K.M. Brown, and the look changed considerably, from realistic to cartoonish, which is actually more suited to a children's story. We made a few more revisions.
Then a global pandemic shut down just about everything, including the publishing world. By the time the publishing industry returned to full production, over a year had passed. The book finally made it up the ladder of projects and got its final revisions.
It is available for preorder on Amazon with a release date of August 30, 2022, two years almost to the day of the contest win that started the ride.
Maybe I'm a pessimist, but until this book actually showed up on Amazon to order, I was not 100% sure it would ever really happen. So, it has been quite a roller coaster ride.
Many thanks to Oghma Creative Media, Casey Cowan, Young Dragons Press, Clarissa Willis, K.M. Brown, and to my friends who are probably tired of hearing about my book by now. Be patient with me, because I am over the moon excited.
The book is here. It's a cute story with fun, colorful illustrations. It's probably most suitable for kids seven to ten, but can be read to younger kids. It's available in paperback from Amazon, and should be available in e-book at a later date.